I had just brought a new headphone for making Skype calls. I was trying testing it out, and I recorded my voice to test it. What came in was a movie song that I was chanting over. I played it back to find too much of background noise. I wanted to remove it. Now for any utility for my OS, I do not rely on a search engine,.. I rely on my "
Synaptic Package Manager
" on my Linux box -
Ubuntu
9.10 (Karmic Koala). Quick was it, to get "
Audacity
" to help me record, and edit audio.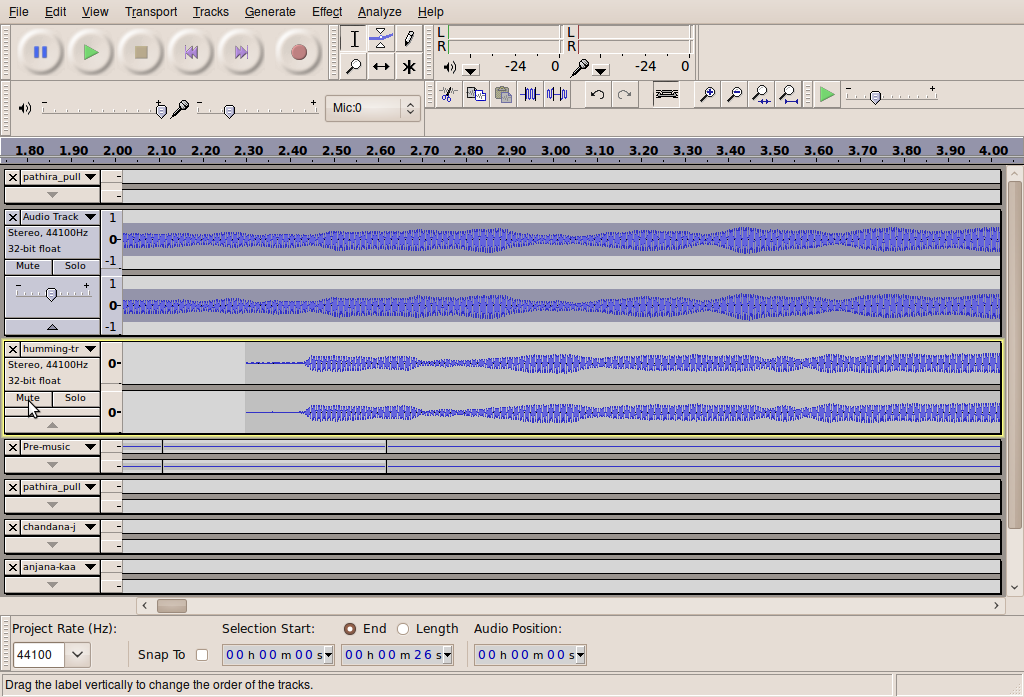 Notice, that I split the audio into multiple tracks easily and mix it at proper timings.
Believe me. Within half an hour I could learn the basic stuff and the edited voice was so good to hear now. I thought, how about mixing some music as well? Soon I got the Karaoke for it as well. Without much practice or effort, I could record that song with the music tack mixed. Hear it to believe it!
This is a romantic song "
Pathira Pullu
" from the Malayalam Movie - "
Ee Puzhayum Kadannu
"(1996). It is one of my favorites songs. Music composed by
Johnson
(one of my favorite music composers), and originally sung by
KJ Yesudas
(obviously my favorite singer).
Those who know me personally can recognize my voice. I have just removed some background noise, added some echo and bass. I am just a bathroom singer, but the voice seems to come out pretty well after the treatment. Even as a fist-time sound recordists, the result was pleasing to me, even with the low quality of the microphone and the always present background noise.
I would encourage people to try this out. Linux is not just for geeks.
Linux is for all human beings
. I am sure there should be more professional tools available for professional people. You can at-least use the tool to record your voice at home and send to participate in your favorite music reality shows :).
PS:
I would have preferred to upload flac/ogg format, but then my friends on non-Linux machines would have no way to hear it.